Will LASIK Cure My Astigmatism? Yes!
Can LASIK Treat Astigmatism?
---
The short answer is: Yes! LASIK surgery can treat astigmatism. Astigmatism is a common vision problem that occurs when the cornea is irregularly shaped, causing blurry or distorted vision. During LASIK surgery, your cornea is reshaped, correcting the irregularities and improving vision. The procedure is highly effective and has a high success rate in treating astigmatism. If you're struggling with astigmatism, LASIK surgery may be a great option worth considering.
SCHEDULE FREE LASIK CONSULTATION
See for yourself why LasikPlus is the smart choice for correcting your astigmatism. Schedule a free LASIK Consultation today!
LasikPlus: A Trusted Leader in Laser Vision Correction
LasikPlus is a leader in laser vision correction in the United States. With over 20 years of experience, we have performed over 2 million laser eye surgery treatments nationally. We are a second-generation family-owned company where LASIK is all we do, so we can focus on our expertise. We have LasikPlus vision centers across the country, and our trusted teams of LASIK specialists are ready to help with all of your laser eye surgery needs.
Can I Get LASIK with Astigmatism?
---
Interested in learning if you're a candidate for LASIK? Get started today by scheduling a free LASIK consultation with LasikPlus.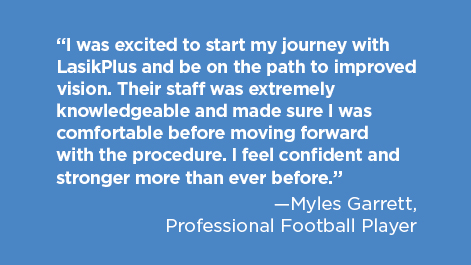 What is Astigmatism?
Astigmatism (uh-STIG-muh-tiz-um) – even though it sounds serious- is simply a "refractive error" similar to nearsightedness or farsightedness.
Lots of people have astigmatisms without even knowing it. Oftentimes, this condition isn't serious enough for the patient to notice any side effects. So, if only a small amount of astigmatism is present, laser correction may not be necessary.
In some cases, though, the effects are severe enough to alter the patient's way of life. If this describes you, LASIK might be the perfect option.
Astigmatism is the result of the cornea (the front of the eye) becoming more of an asymmetrical shape instead of its normally round curve. During the LASIK procedure, a LasikPlus surgeon- who has mastered the art of LASIK surgery- uses a special laser that's programmed to reshape the cornea to be more spherical, correcting the way that it will bend and focus light.
LASIK surgery is designed to remove the side effects associated with astigmatism, and can even remove your need for glasses or contacts for good.
Are There Types of Astigmatism that LASIK Can't Fix?
Most patients who are good candidates for LASIK will be able to proceed with laser eye surgery for astigmatism. But while most types of astigmatism can be easily treated with LASIK surgery, there are a few that cannot. For example, irregular astigmatism may not be able to be corrected by LASIK.
During your free 60-90 minute consultation, a qualified LASIK specialist will determine if you're a candidate for laser vision correction, depending on your type of astigmatism.
Will Your Insurance Cover the Cost of LASIK for Astigmatism?
Insurance companies consider LASIK for astigmatism an "elective treatment," no matter how necessary the procedure is.
But don't lose hope! LasikPlus offers LASIK discounts through most insurance & vision plans. Head over to our Insurance Plans page to see if your provider is listed.
Our financial coordinator will be able to help you during your free LASIK examination, to check your insurance to determine which discount you may be able to apply, and can assist in filing the claim on our behalf if an allowance pertains.
After Getting LASIK for my Astigmatism, How Long Will it Take to Recover?
While most of the patients who get LASIK for astigmatism notice a difference right away, it usually takes your eyes about three to six months to fully recover and heal.
To ensure that you make a safe and full recovery, and to prevent any unforeseen complications, it's important to follow your surgeon's post-LASIK instructions as close as possible.
Even though there are types of astigmatism that LASIK can't treat, you always have options- and the team at LasikPlus is here to help! Call us today (877) 679-4937 to talk with a licensed professional and see if LASIK is the right choice for you.
SCHEDULE FREE LASIK CONSULTATION
Hear What Our Patients Are Saying About LasikPlus
Click on the forward arrow on the video player to watch more LasikPlus reviews:

LasikPlus Patient Stories
Interested In Reading More LasikPlus Reviews? Click the image Below:

Book with LasikPlus & take advantage of:
A FREE Comprehensive LASIK Examination (Over $120 value)
FREE Enhancements for Life on Most Procedures
Custom All-Laser LASIK Procedures