Why You Should Choose LASIKPlus!
Ali Krieger's Experience
---
LasikPlus recently provided LASIK to professional soccer player Ali Krieger to improve her vision and reduce her dependency on glasses and contacts. We are excited to partner with Mrs. Krieger, giving her the vision and focus to continue to be one of the top athletes in the United States. We also believe that LASIK can help you too.
Take advantage of our special offer of $1,000 off LASIK. There hasn't been a better time to free yourself from the annoyance of contacts and glasses.
CLAIM OFFER & SCHEDULE FREE LASIK CONSULTATION
See for yourself why LasikPlus is the smart choice for LASIK. Schedule a free LASIK Consultation today!
Save $1,000 off LASIK at LasikPlus
LasikPlus is a leader in laser vision correction in the United States. With over 20 years of experience, we have performed over 2 million laser eye surgery treatments nationally. We are a second-generation family-owned company where LASIK is all we do, so we can focus on our expertise. We have LasikPlus vision centers across the country, and our trusted teams of LASIK specialists are ready to help with all of your laser eye surgery needs.
Hear it from Ali Krieger
---
Interested in learning if you're a candidate for LASIK? Get started today by scheduling a free LASIK consultation with LasikPlus.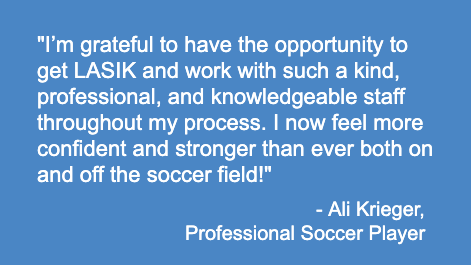 Hear What Other Influencers Are Saying About LasikPlus
Click on the forward arrow on the timeline to watch more LasikPlus reviews:

Book with LasikPlus & take advantage of:
A FREE Comprehensive LASIK Examination (Over $120 value)
FREE Enhancements for Life on Most Procedures
Custom All-Laser LASIK Procedures