Presbyopia (Age-Related Vision Problems)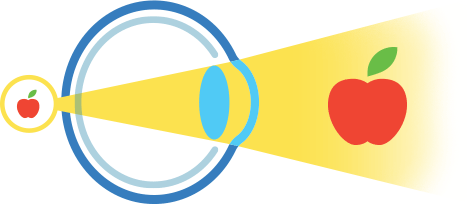 If you are presbyopic, without corrective lenses such as readers, magnifiers, or bi- or tri-focals, you have problems with reading small print and seeing objects up-close. Presbyopia refers to a natural weakening of the eye that comes with age, usually around the mid to late 40's and occurs to those who are nearsighted, farsighted, astigmatic, or have never had prior vision problems. Unlike other refractive errors, presbyopia is not caused by corneal shape, but rather the eye losing its flexibility. If you find yourself squinting to read a paper, or holding the paper at greater distances from you, even while wearing your prescription lenses, you may be experiencing presbyopia.
How LASIK Treats Presbyopia
During the LASIK procedure for the correction of presbyopia, pulses of cool, ultra-violet light are emitted from a computer-guided Excimer laser to remove corneal cells according to your unique prescription. Unlike the treatment of nearsightedness, farsightedness and astigmatism, the LASIK correction of presbyopia is accomplished through a technique called a monovision, during which one eye is corrected for clear close-up vision and the other for clear distance vision. For most monovision patients, the brain quickly adapts, without any conscious effort by the patient; however, a small number of patients do not adjust well to this type of procedure. Many of our patients ultimately choose having better distance vision in both eyes, recognizing that they will need reading glasses at some point after they reach the age of 40. To them, better distance vision is more important and they use inexpensive, over-the-counter reading glasses, often called readers or cheaters, only when needed.
Click below to learn more about LASIK and PRK for the correction of astigmatism.